Margie Campbell Healing Garden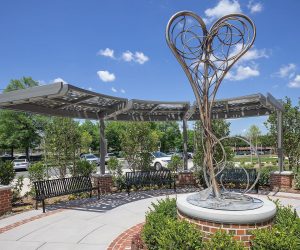 On behalf of the Cabarrus Healthcare Foundation Board of Directors, we are pleased to announce the naming of the Margie Campbell Healing Garden outside of the new Heart and Vascular Tower at Atrium Health Cabarrus.  We are so excited to be able to name this beautiful space in memory of our dear friend and colleague. Margie joined our board in 2011 and was a vital part of our success.  She provided great insight and leadership as part of our Planned Giving Council and board.
The Garden will be a beautiful space of respite and tranquility for all. It will have a pergola and benches where patients, family members and teammates can sit and enjoy beautiful flowers and sculptures.
Margie's daughter, Katie Morgan, said the following:
"Many seeking medical care in our community face very serious medical conditions – and that takes its toll on both the patient and their family. It is our hope that the Garden can add just a bit of peace and serenity to those waiting on procedures for their own loved ones.  In addition to the Garden itself bringing a sense of calm, we hope the Garden is a symbol of the efforts made to raise awareness and funds to ensure that those patients are receiving the very best that our community has to offer at this time."
In celebration of the dedication of the Margie Campbell Healing Garden we are raising $150,000 for Cardiac Services and Cancer Services at Atrium Health Cabarrus.  Because of Margie's courageous fight during her treatment and in the years that followed, both areas have great meaning to her husband Jimmy and daughters Katie and Brittany.  The family has made a lead gift to kick off this campaign which will run until April 30, 2020.  Thank you for considering a gift in memory of Margie and in support of her wonderful family.