ALUMNI SPOTLIGHTS
ALUMNI
SPOTLIGHTS
Our graduates are making an impact in our community. Here we
spotlight a few to acknowledge their accomplishments.
CLASS OF 1998 – NURSING
RENAY JONES MSN, RN, CNML
---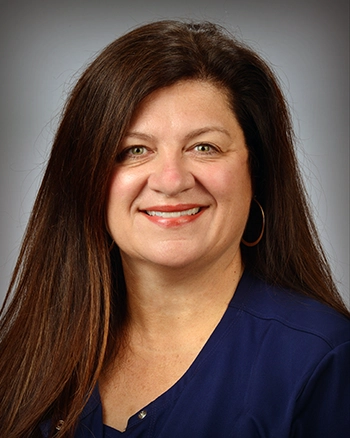 About Renay…
Renay Jones' first job after earning her nursing degree was in the Progressive Coronary Care Unit (PCCU) at Atrium Health Cabarrus. Her 25 years in that unit show that you don't have to go far to build a successful nursing career. Sometimes you can do it right across the street.
How did Cabarrus College prepare you for your current role?
While working in the PCCU, Renay earned her bachelor's and master's degrees and climbed the career ladder to become an Administrative Clinical Supervisor. She enjoys cardiology and the educational aspects of her job – her master's degree is in nursing education – so she never left. "Truly, I've spent the majority of my life here on this unit," she said. "This is my family here." 
What are a couple of things you loved most about Cabarrus College?
The family Jones found in the PCCU is not unlike what she experienced as a student at Cabarrus College. "I felt like everybody knew who I was, and all the instructors were invested in me," she said. "They were invested in each of us. So, it really had a family feel to it." Now, as she educates staff in her position at Atrium Health Cabarrus, Renay continues that legacy. "I enjoy educating. That's really where my passion is. And I feel like I'm helping to grow the next generation of nurses because that's what we have to do.