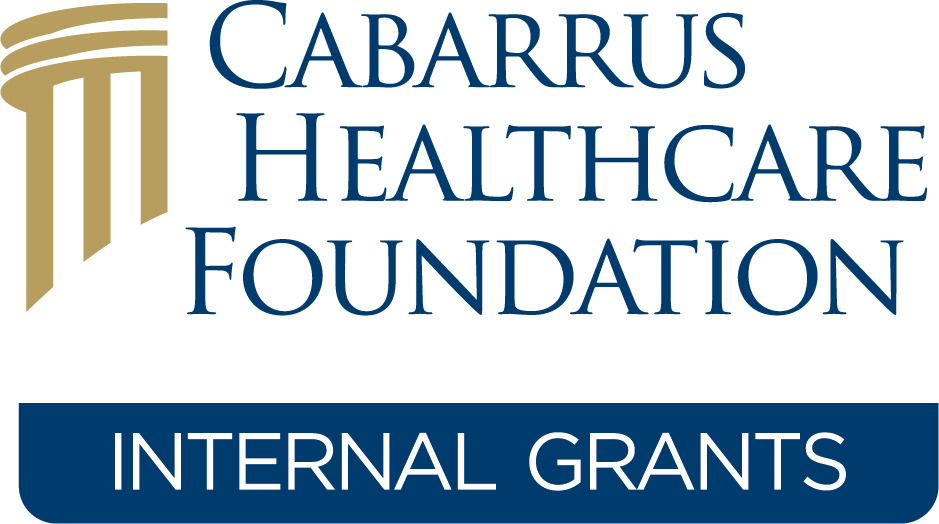 FOR IMMEDIATE RELEASE 6-16-2023
CABARRUS HEALTHCARE FOUNDATION FUNDS $2.3 MILLION DOLLARS THROUGH ITS INTERNAL GRANTS PROGRAM IN ITS 10TH YEAR
Foundation Board approved and surprised 23 departments with grants
CONCORD, N.C. (June 15, 2023) — The Cabarrus Healthcare Foundation, whose mission is to provide financial and community support for Atrium Health Cabarrus, and its board of directors announced and awarded $309,262.43 in Internal Grants to 23 hospital departments. With the approved funding from its growing endowment fund this year, the Cabarrus Healthcare Foundation has now awarded over $2.3 million in Internal Grants awards to Atrium Health Cabarrus since its inception in 2013.
Click to see all awarded grants.
Cabarrus Healthcare Foundation designed the Internal Grants Program 10 years ago and provides funding for equipment, programs and projects enhancing patient care at Atrium Health Cabarrus as it strives to be the first and best choice for care in our community. Atrium Health Cabarrus departments are chosen through the Internal Grants application process with the goal of continuing its mission to improve health, elevate hope and advance healing for all.
Asha Rodriguez, Atrium Health Cabarrus Facility Executive shared,
"The Internal Grants Program supports innovation and excellence at Atrium Health Cabarrus. For 10 years and through this program, we have been able to continue to impact care greatly for our community and the impact is key to our success."
The grant announcements came this week to each department through a "Grant Patrol" made up of Foundation Board Members, Hospital Administrators and Foundation Staff. The patrol awarded 23 Internal Grants to various hospital departments in Cabarrus County. The patrol was seen at various locations with pom poms and clappers in hand ready to surprise each grantee.
Dr. Erika Steinbacher, one of the 23 recipients through this year's Grant Patrol, received a grant that will support the Cabarrus Family Medicine Residency Program with a Loop Electrosurgical Excision Procedure Device. This grant funding will be used to purchase a device used to treat advanced lesions of the cervix at high risk for progression to cancer. This procedure is conducted in the office thereby removing the need for anesthesia and the higher risk of alternative procedures. This grant will serve women in our community who are underserved and need treatment.
Our Cabarrus College of Health Sciences is dedicated to preparing our future healthcare workers. This year they received two grants. One of the grants will help to support the Surgical Technology Program led by Michelle Payne. This grant will purchase a LAPSIM® ST Training System. This system will provide Surgical Technology students with a more innovative simulation experience. It will prepare students to become an integral part of a surgical team by providing exercises to develop camera navigation, surgical anatomy, and laparoscopic instrumentation skills. This system will allow lab instruction to closely mirror the Operating Room experience and routine by utilizing the electric surgical table and position manikin.
The following Atrium Health Cabarrus departments received funding during the Grant Patrol:
Carolinas Rehabilitation- Northeast
Cabarrus College of Health Sciences – Occupational Therapy Program
Cabarrus SANE Program (2 Grants)
Cabarrus College of Health Sciences – Surgical Technology Program
Cabarrus Family Medicine – Lifestyle Medicine
Rehabilitation Services-Physical Therapy
Atrium Health – Cabarrus Rehabilitation at Gateway (2 Grants)
Sanger Heart and Vascular Institute – Atrium Cabarrus
Atrium Health Cabarrus Cardiac Rehabilitation
Concord Internal Medicine
Cabarrus Family Medicine Residency Program
Nephrology
Internal Pulmonary/Progressive Care Unit
Medical Surgical Intensive Care Unit
Respiratory Therapy Department (3 Grants)
Behavioral Health
Atrium Health Cabarrus Transition Services (2 Grants)
Veterans Recognition Program
The grant requests are sent through a very intense process and reviewed by the Internal Grants Committee under the leadership of Jessica Tucker, Cabarrus Healthcare Foundation Board Member, and Internal Grants Committee Chair.
"Our committee works diligently each year to assess and recommend qualifying grant applications," said Jessica. "We were excited that during the 10th year of this program, we received many applications, the most our committee has received since the program started."
The Cabarrus Healthcare Foundation Internal Grants committee is made up of nine Foundation board members. Along with Tucker, the eight other committee members include Dianne Snyder (Board Chair), Hank Alston (Board Vice Chair), Pam Cain, Ann Cannon, Bill Dusch, Dr. John Heinzerling, Dr. Tom Jones, and Jon Yancey.
The Cabarrus Healthcare Foundation's endowment has been invested for the long-term benefit of Atrium Health Cabarrus. The endowment continues to grow each year which increases funding for our Internal Grants program.
Dianne Snyder stated, "We would like to thank the donors that support Cabarrus Healthcare Foundation. Their generosity in turn enables us to support the services and care provided at Atrium Health Cabarrus. The community is the ultimate beneficiary of their generosity."
For more information on the Cabarrus Healthcare Foundation visit www.cabarrushealthcarefoundation.org or call 704-403-1369.
About Cabarrus Healthcare Foundation
Cabarrus Healthcare Foundation was created in 1994 to support one of our community's most valued assets, Atrium Health Cabarrus. Community leaders were invited to establish a Foundation Board of Directors whose mission was to secure additional financial support solely for Atrium Health Cabarrus. Through an organized program of fund development with families, friends, businesses and neighbors, this mission continues today. Gifts to Cabarrus Healthcare Foundation are considered gifts of love and support from the community, gifts that acknowledge the importance of preserving and enhancing the health status of our community.
Our Mission
The mission of Cabarrus Healthcare Foundation is to Improve Health, Elevate Hope and Advance Healing for all through awareness of and fundraising for Atrium Health Cabarrus.