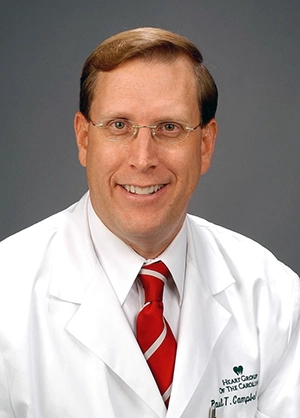 Dr. Paul Campbell performs the 1,000th Robotic Procedure at Atrium Health Cabarrus 
In May of 2014, the Cabarrus Healthcare Foundation hosted a ribbon cutting for the Corindus CorPath 200 Cardiac Catheterization Robotic System. This system was purchased by Cabarrus Healthcare Foundation through a grant from The Cannon Foundation. It was announced in Spring 2023, Dr. Paul Campbell, an interventional cardiologist with Sanger Heart and Vascular Institute – Cabarrus performed the 1,000th procedure utilizing this state-of-the-art equipment. Atrium Health Cabarrus is the only hospital in the greater Charlotte region to offer this type of intervention. Congratulations Dr. Campbell and the Sanger Heart and Vascular Institute – Cabarrus on this milestone.
Previously, physicians could receive too much radiation from preforming the interventional procedure. With the Corindus, they can place guide wires and stents inside the patient's heart from the safety of a radiation-protected "interventional cockpit" adjacent to the patient. Joysticks are used inside the cockpit for the physician to maneuver through the cases with greater precision than ever before, which provides greater results for the patient with less need for additional procedures.
"This equipment is a wonderful advancement and investment for cardiac care in our community. We are so excited to have this technology at Atrium Health Cabarrus!" Amanda Thompson, AVP Patient Care Services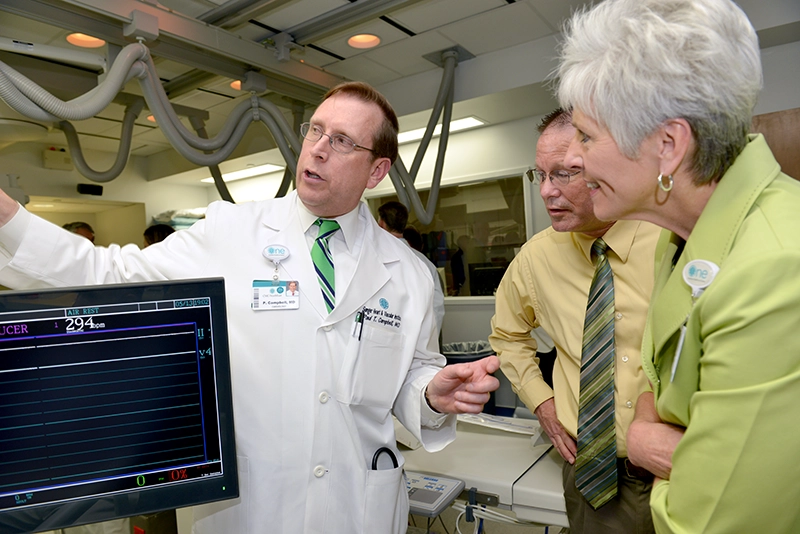 About Cabarrus Healthcare Foundation
Cabarrus Healthcare Foundation was created in 1994 to support one of our community's most valued assets, Atrium Health Cabarrus. Community leaders were invited to establish a Foundation Board of Directors whose mission was to secure additional financial support solely for Atrium Health Cabarrus. Through an organized program of fund development with families, friends, businesses and neighbors, this mission continues today. Gifts to Cabarrus Healthcare Foundation are considered gifts of love and support from the community, gifts that acknowledge the importance of preserving and enhancing the health status of our community.
Our Mission
The mission of Cabarrus Healthcare Foundation is to Improve Health, Elevate Hope and Advance Healing for all through awareness of and fundraising for Atrium Health Cabarrus.