CONCORD, N.C. (May 10, 2021)
Thank you to all of our donors for your tremendous support during the 2021 "I Love My Doctor" Campaign. Your generosity raised over $5,000.00 to honor your doctors and benefit your hospital. We were overwhelmed with all of the submissions we received as our community honored their favorite doctor. During such a difficult past year, as our world faced the COVID-19 pandemic, our community responded to let us know how amazing our doctors really are at Atrium Health Cabarrus.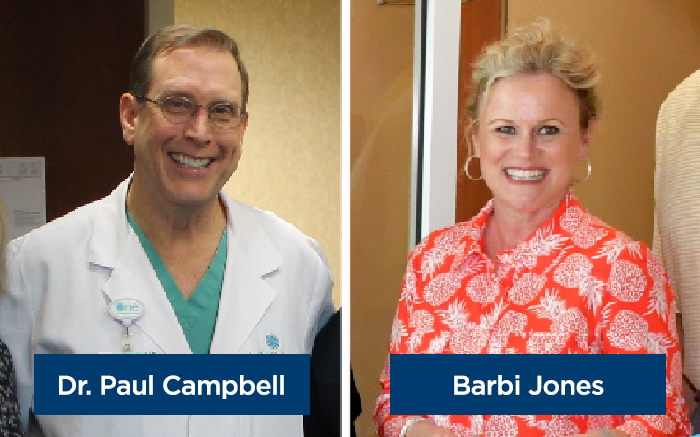 Congratulations to Dr. Paul Campbell for receiving the most submissions during the month of March! Dr. Campbell is an Interventional Cardiologist with Sanger Heart and Vascular Institute and practices in Concord, NC. Dr. Campbell received a Chef's Table Experience at 73 & Main in Mt. Pleasant, NC for him and his wife to enjoy!
Congratulations to Barbi Jones who won a $100 Gift Card to 73 & Main in Mt. Pleasant, NC. Barbi honored her favorite doctor, Dr. Kevin Burroughs. Dr. Burroughs is a Sports Medicine Specialist with Atrium Health. Barbi was excited to be the winner of the drawing for the 73 & Main gift card this year and is looking forward to a nice dinner in Mt. Pleasant.
Thank you to our community for your support during this very special campaign. It was the Foundation's pleasure to host this special first annual "I Love My Doctor" Campaign. We look forward to hosting this Campaign every year and appreciate the kind words you shared with us about the best doctors in our community!
Below is a list of all of our doctors that were honored during the 2021 "I Love My Doctor" Campaign:
Dr. Matthew Abraham
Dr. Mark Aldous
Dr. Kevin Burroughs
Dr. Paul Campbell
Dr. Dawn Caviness
Dr. Kamal Chater
Dr. Lay Har Cheng
Dr. Patrick Chiu
Dr. David Christopherson
Dr. Leigh Cicci
Dr. Staci Condrey
Dr. Clara Croce
Dr. Giltz Croley
Dr. Paul Delaney
Dr. Ndidi Feinberg
Dr. Matthew Fox
Dr. Bill Goglin
Dr. Nihan Gurcanlar
Dr. Dan Hagler
Dr. Jennifer Hale
Dr. Joshua Hall
Dr. John Heinzerling
Dr. Christopher Henry
Dr. Christopher Holland
Dr. Michael Houston
Dr. Shelley Houston
Dr. Mike Jones
Dr. Tom Jones
Dr. Mary Jordan
Dr. Kunal Kadakia
Dr. Ipe Kalathoor
Dr. Douglas Kelling
Dr. Christopher Kroll
Dr. James LeClair
Dr. Robert Levy
Dr. Tony Melville
Dr. Robert Mitchell
Dr. Benjamin Moeller
Dr. Brent Mullis
Dr. Maureen Murphy
Dr. Andrew Nance
Dr. Stephen O'Brien
Dr. Macy Osborn
Montana Poe, FNP
Dr. Ronald Pollack
Dr. Lara Pons
Dr. Geoff Rackoff
Dr. Adam Ravin
Dr. Charles Rhodes
Dr. Rachel Romero
Dr. James Scheer
Dr. Joseph Simpson
Dr. Rani Singh
Dr. Mark Smiley
Dr. Erika Steinbacher
Dr. Stephanie Strollo
Dr. Jenna Thomas
Dr. David Tignor
Dr. Erin Trantham
Dr. Geetha Vallabhaneni
Dr. Marc Ward
Dr. James Wheless
Dr. Stephen Zouzoulas