APPLAUD YOUR FAVORITE DOCTOR(s)
APPLAUD YOUR FAVORITE DOCTOR(s)
March 30th is National Doctor's Day and
WE NEED YOUR HELP!
Help us HONOR AND CELEBRATE OUR DOCTORS at Atrium Health Cabarrus during the whole month of March. Physicians have been beaten down with the strain of COVID and we believe that hearing positive feedback and gratitude from you will be incredibly uplifting to them.
Dr. Dawn Caviness with Cabarrus Family Medicine – Concord listens and is very compassionate.
Dr. Marc Ward with Piedmont Ortho is caring, professional and a fantastic surgeon! I just had a total knee replacement surgery and am completely satisfied! He is professional, a very great communicator, and has a caring personality!
Dr. Erika Steinbacher cares for my family and every patient with compassion and warmth.
Dr. James Scheer with NE Internal and Integrated Medicine. He always takes time to listen to me. Dr. Scheer is interested in what l have to say about my health problems. He gives me clear and easy to understand explanations for my medications. And he has a great sense of humor! These are some of the reasons I think he deserves a pat on the back. He's a good, down to earth kind of guy!
Cabarrus Family Medicine. Excellent dedication to service and care during the COVID pandemic.
With each $21 donation you will be entered into a drawing to win a $100 gift card to 73 & Main in Mt. Pleasant, NC. Additionally, the doctor(s) who receives the most submissions will win a complimentary Chef's Table Experience at 73 & Main.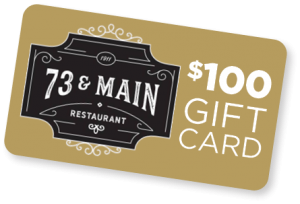 Simply complete the form to honor your favorite doctor or team of doctors with a $21 donation (or more) to celebrate our new year and honor our physicians' hard work and devotion. 
Thank you for helping us honor our amazing physicians at Atrium Health Cabarrus. Help us spread the word to your friends and family so that we can show our doctors how much our community truly loves them!
I Love My Doctor
Cabarrus Healthcare Foundation is the charitable 501(c)(3) fundraising arm of Atrium Health Cabarrus. Cabarrus Healthcare Foundation Federal Tax ID # 58-2055709